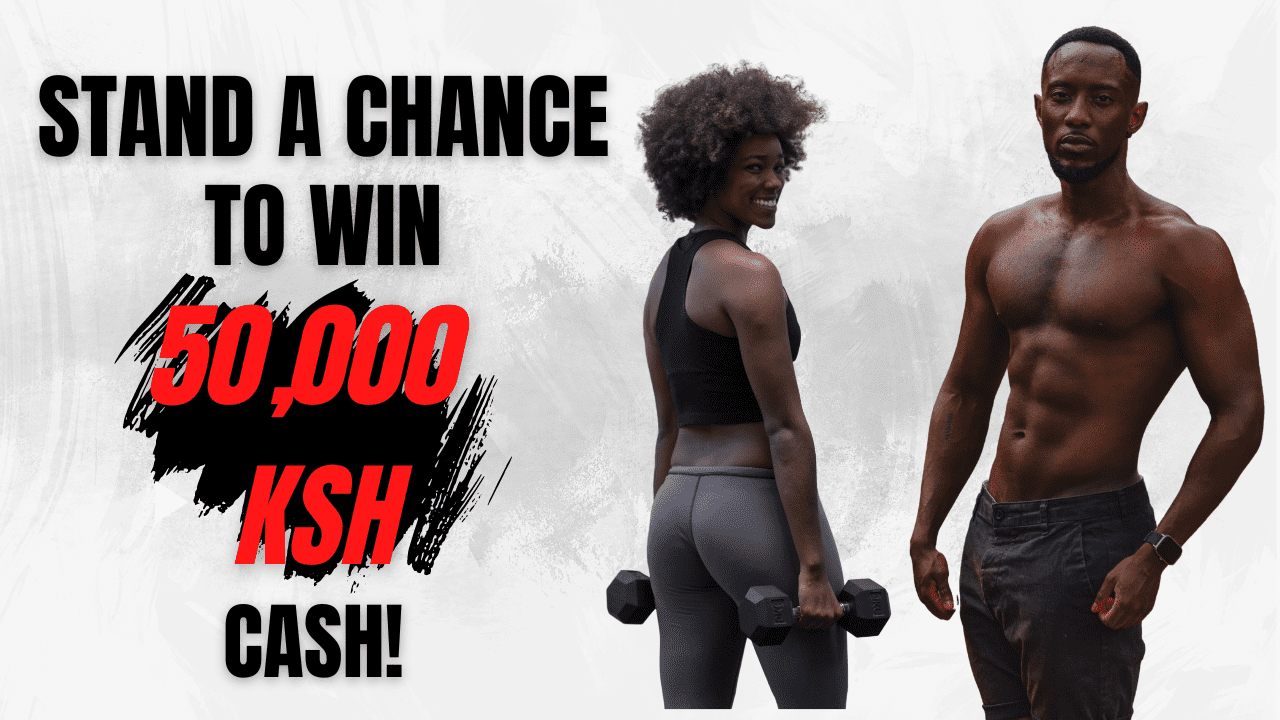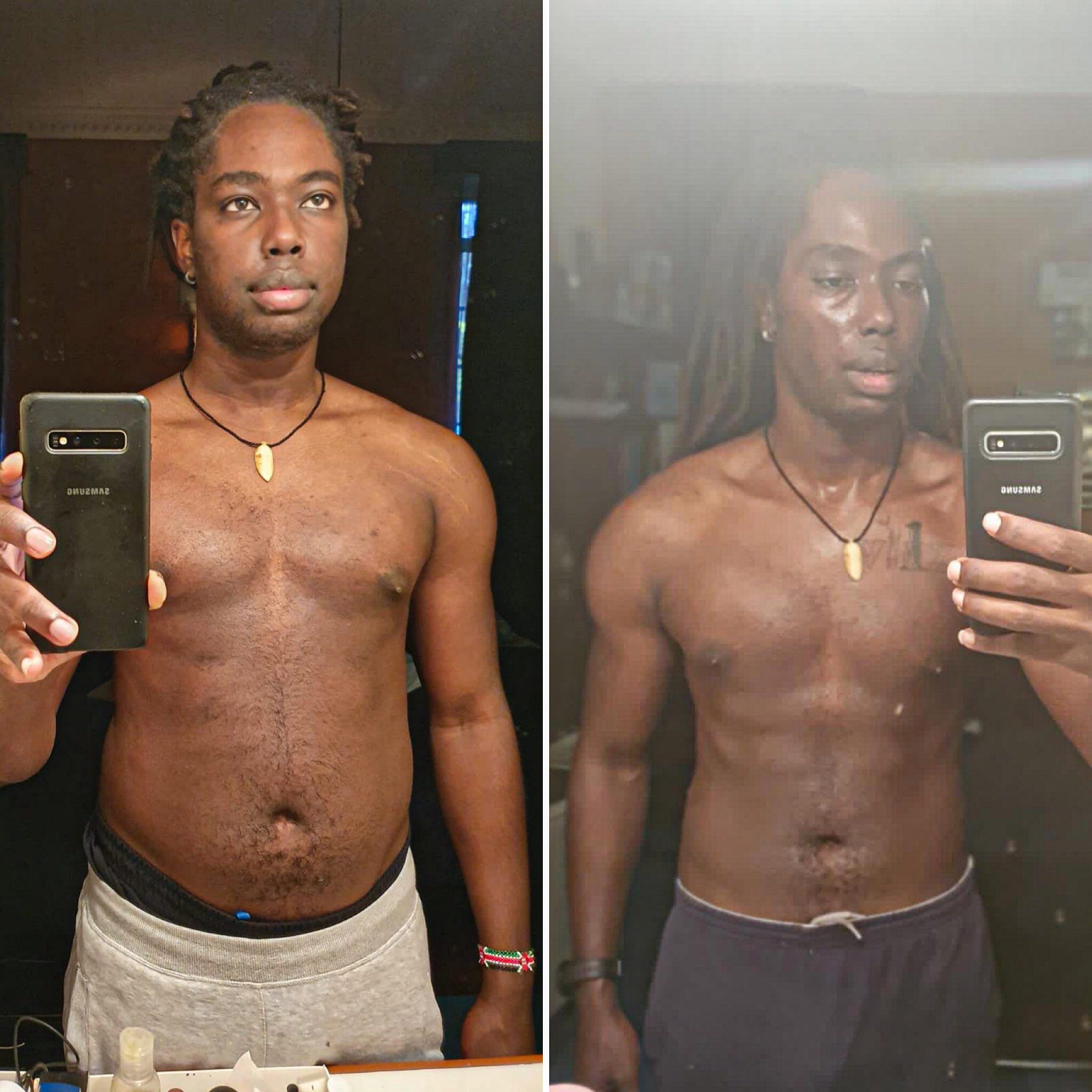 ANDREW
John Paul really committed to helping and guiding me through my Fitness Journey. I have found the Coaching Plan very convenient with weekly check-up calls, advice on how to track calories, and a custom workout program. I reached my goal of building muscle & cutting down from 86.4kg to 74kg!!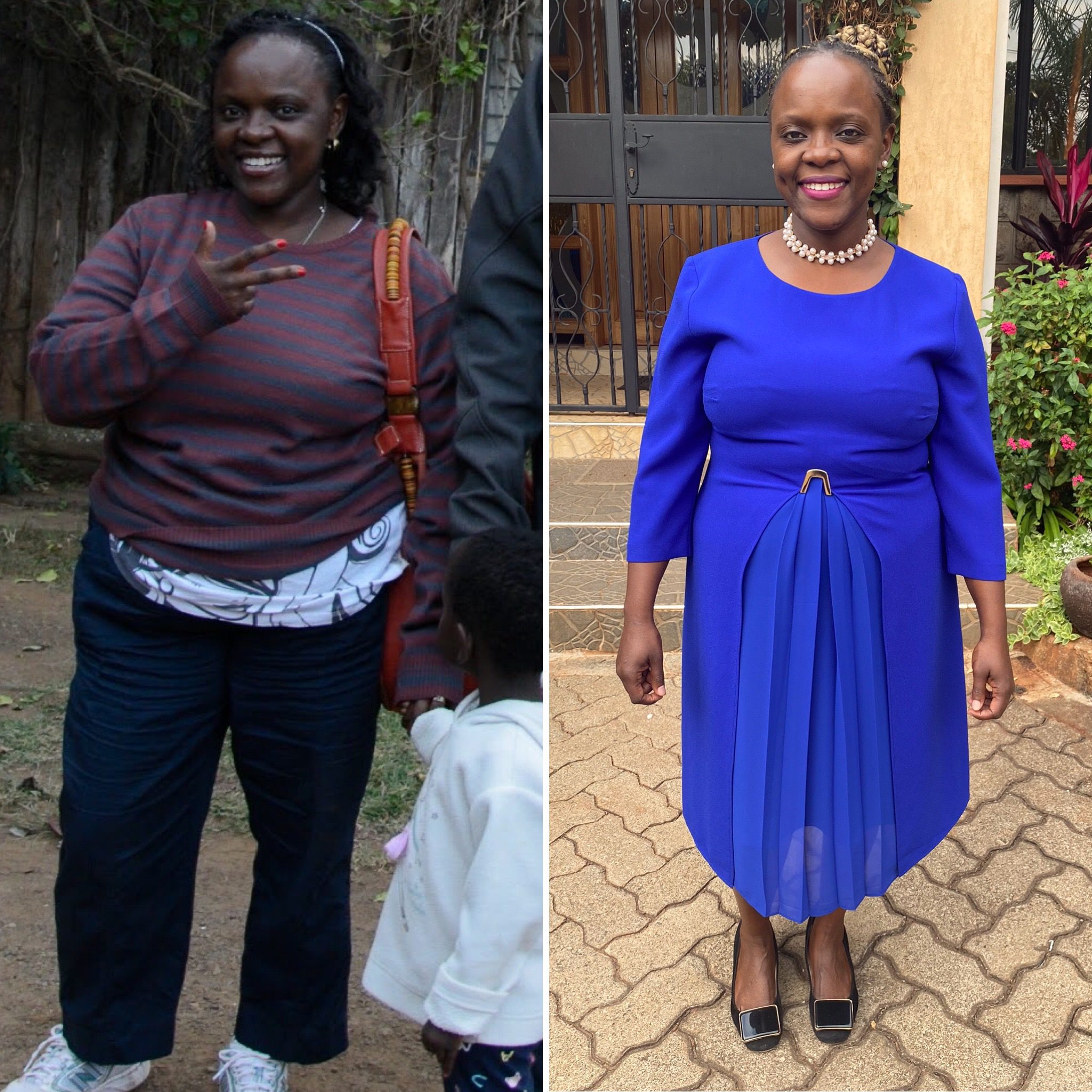 CATHERINE
Today, at the end of my 14th week since I started my fitness program with John Paul Fitness, we have smashed my goal of reaching 71.4kg down from 81.6kg (10.2kgs/22.4lbs lost)!! For me, it's much more than I could ever have hoped for in that period of time; it's INCREDIBLE!!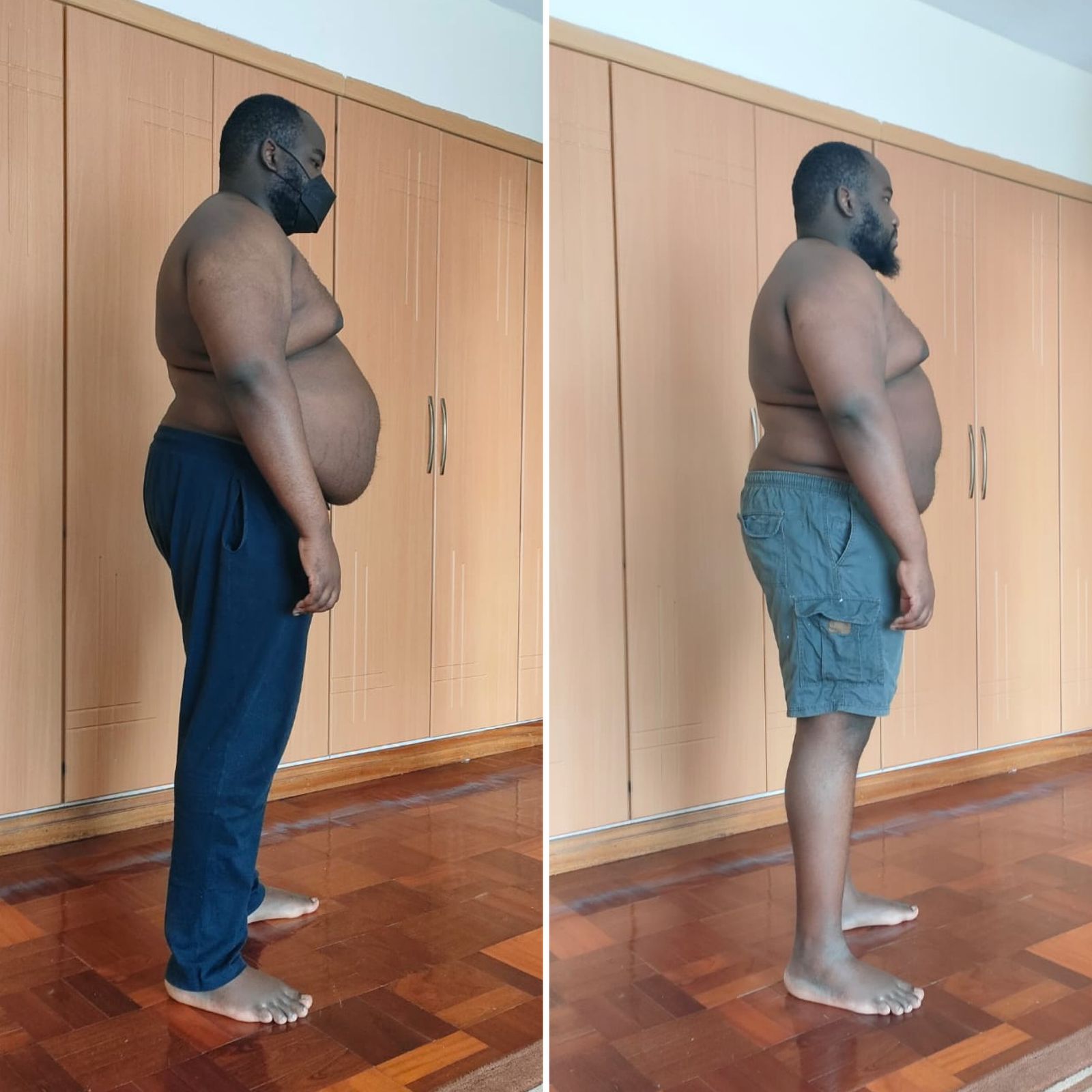 JOSEPH
I lost 9kgs in 16 weeks thanks to John Paul fitness. The program is just wonderful and I recommend it to anyone looking for a lifestyle change.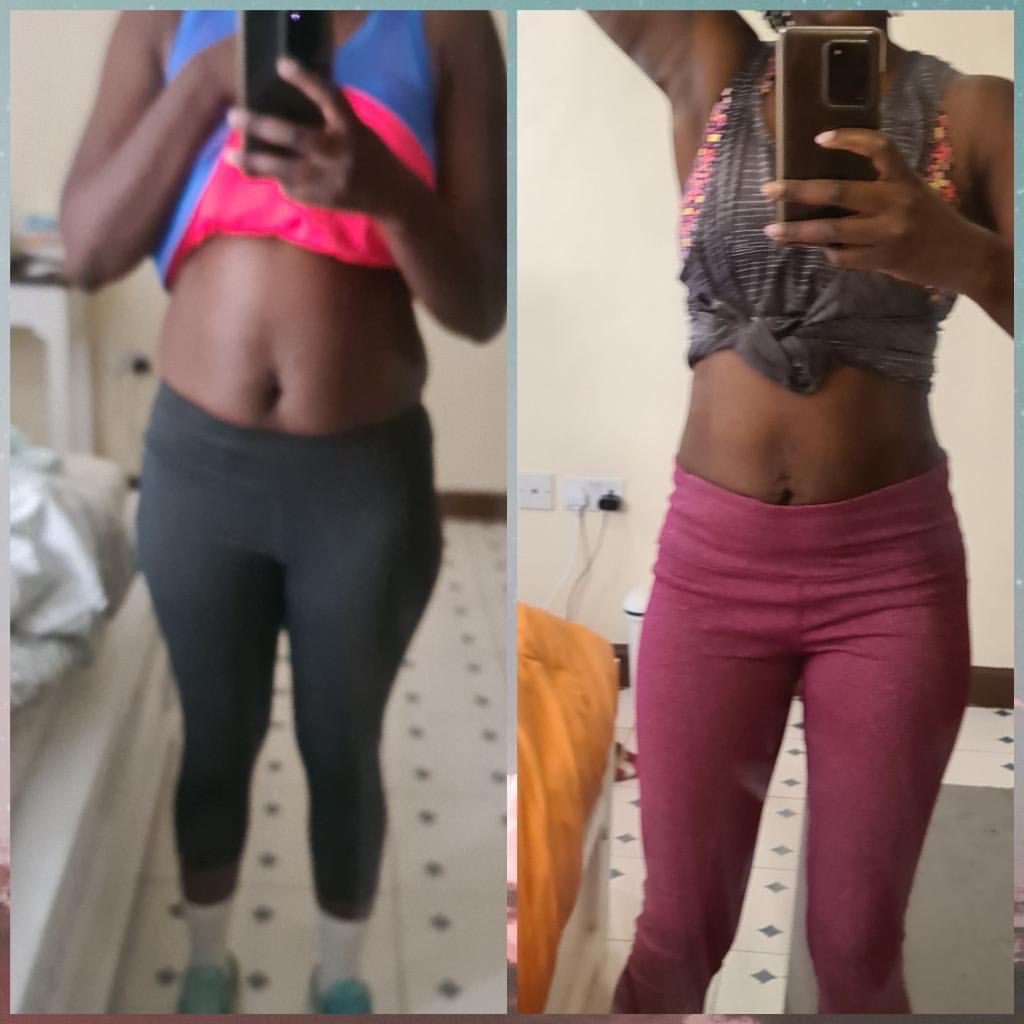 VIOLET
Choosing to work with JP this year has been one of the best decisions of 2021. I had tried a few programs, starvation diets et al with zero results. With JP I achieved my fat loss goals (lost 6kgs in 3 months) through the coaching program and the results were beyond my expectation.
WAMBUI SHELLS
Wow! It has been a great 14 months working with JP! I thought I knew all theory about Weight Loss until JP. I am more knowledgeable about losing weight the healthier and sustainable way. I have formed good eating and excercising habits that have stuck with me! JP is a good accountability partner! Thank you!
JEROME KIMANI
I love how he makes it clear HOW to get results. It is simple, but certainly not easy (otherwise everybody would do it).
You just have to stick to the instructions JP gives and it's no longer a matter of if, but when you feel stronger and look better.
And best of all, it's based on building solid habits, thus you can sustain change long-term, without sudden, drastic, and uncomfortable interventions in your routine.
Definitely a fitness program worth committing to.
Cheers JP!
BRENDA OLEMBO
JP knows and understands what he's doing. He's a patient and understanding trainer-not too strict that he won't understand that sometimes life gets in the way, and not too lenient to let you off the hook if you miss several workouts. He's also knowledgeable in postpartum fitness. Highly recommend it! 3 months later, 10kg down!!
JOYLYNN KAHIRO
I never knew how important an online coach was until JP! There are a lot of steps people miss by going on their fitness journey by themselves. Plus the need to be accountable and dedicated to the process just needs a trainer. JP has done an amazing job in coaching and giving me lifelong tools that I can use for the rest of my life. The goal for me was to become healthier and fit and to lose a few pounds. I got that and more!!! Give JP all your Moneyssss!!!! I honestly had no complaints, he's as dedicated as you need him to be.
Thank you so much, JP!!!
MUTHONI KANYANA
JP is an awesome coach! Totally committed to your success! I love the fact that you get to understand the simple facts of weight loss…it is not about avoiding certain foods but knowing how much to eat. I am the lowest weight in my adult life, I am also much stronger and fitter. My endurance has increased significantly. I am also developing good health habits that will stick with me for a lifetime. Thank you, JP??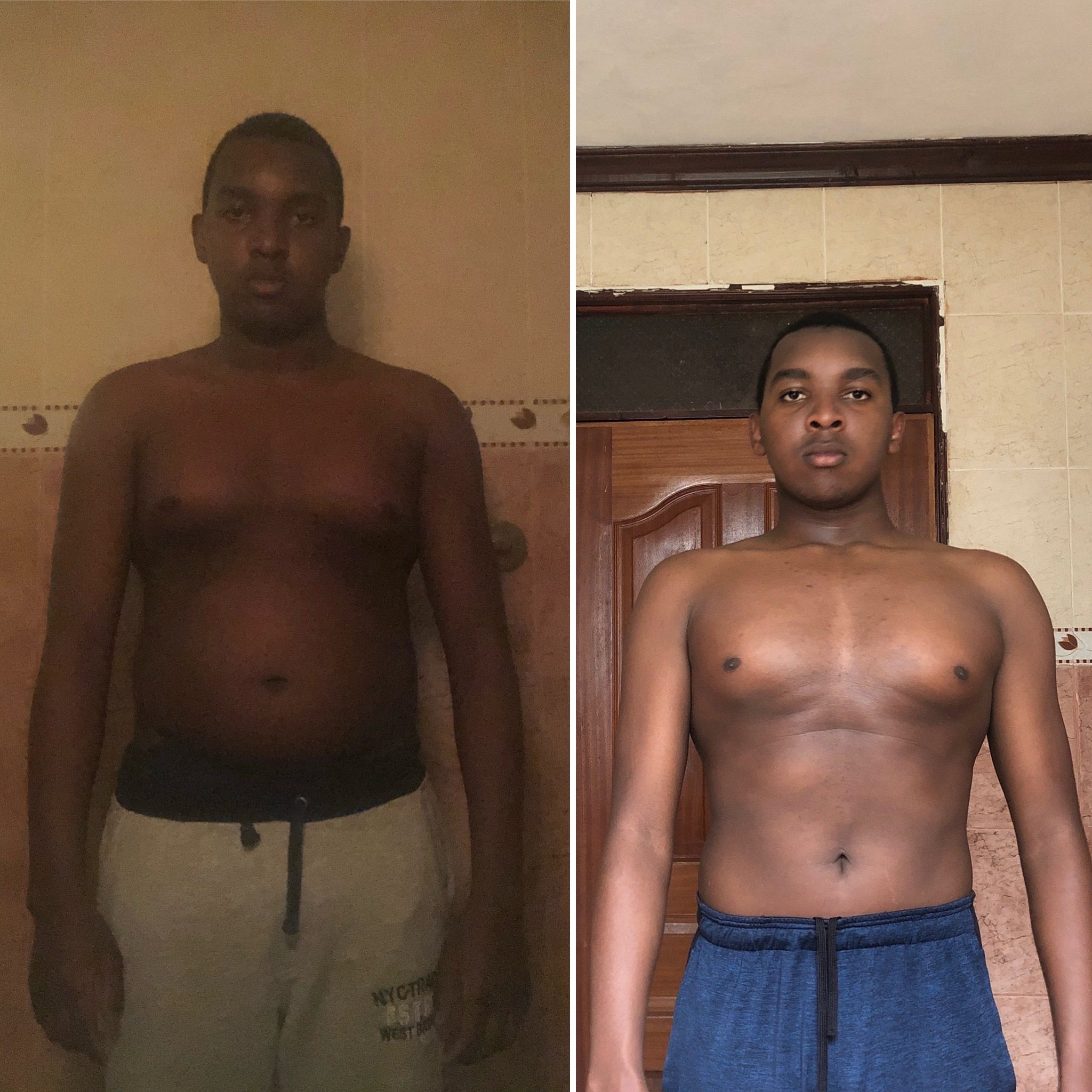 JOMO
Honestly training with JP as my coach is probably one of the best fitness decisions i've made in my life.

His custom plan worked wonders for me. Thank you JP for pushing me through my transformation! I lost 16.7 kgs in 6 months!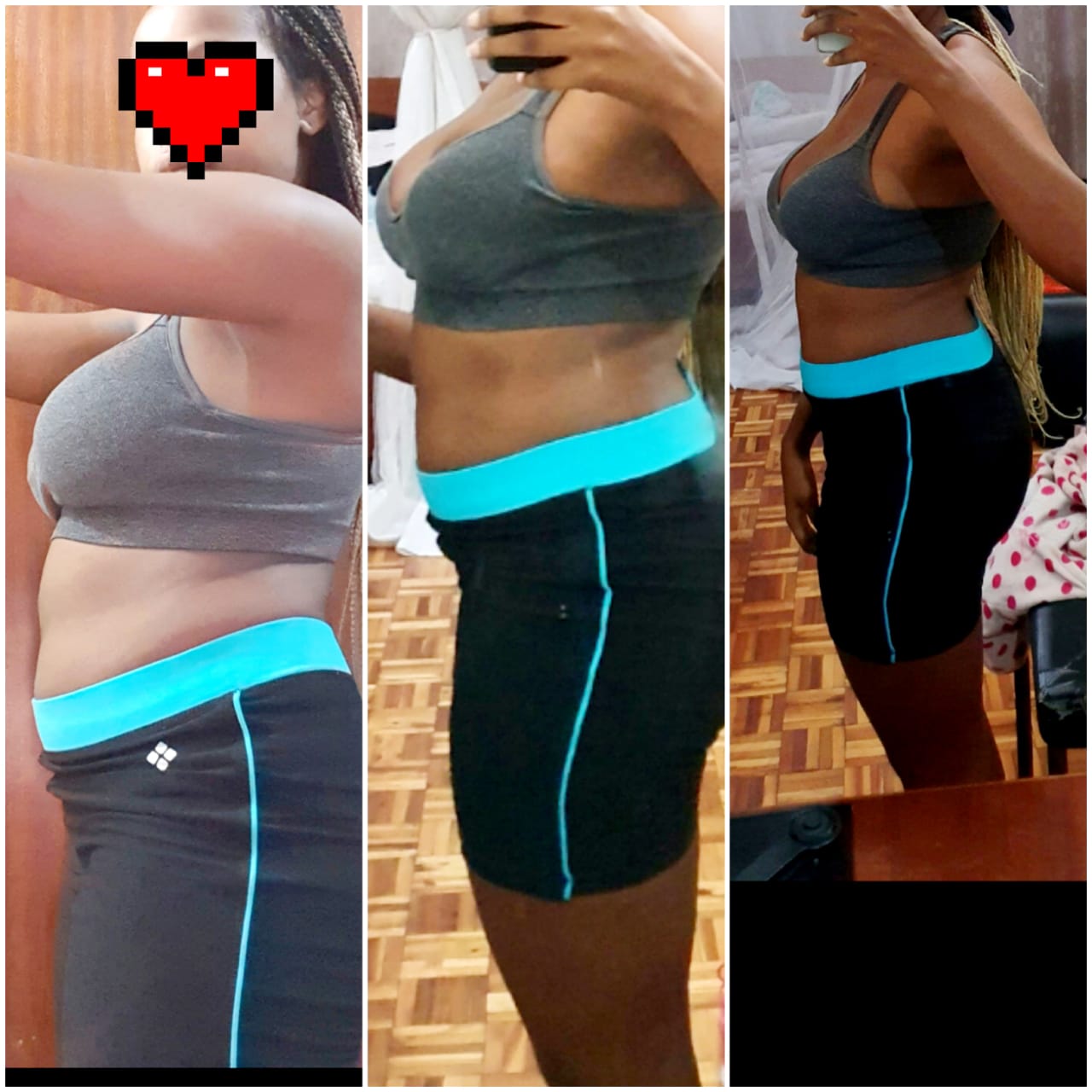 mercie
Mercie managed to lose belly fat & build muscle using the "Godiva" workout & nutrition systems. She boasted an amazing transformation in just 6 weeks having lost 3 kgs (6.6lbs)!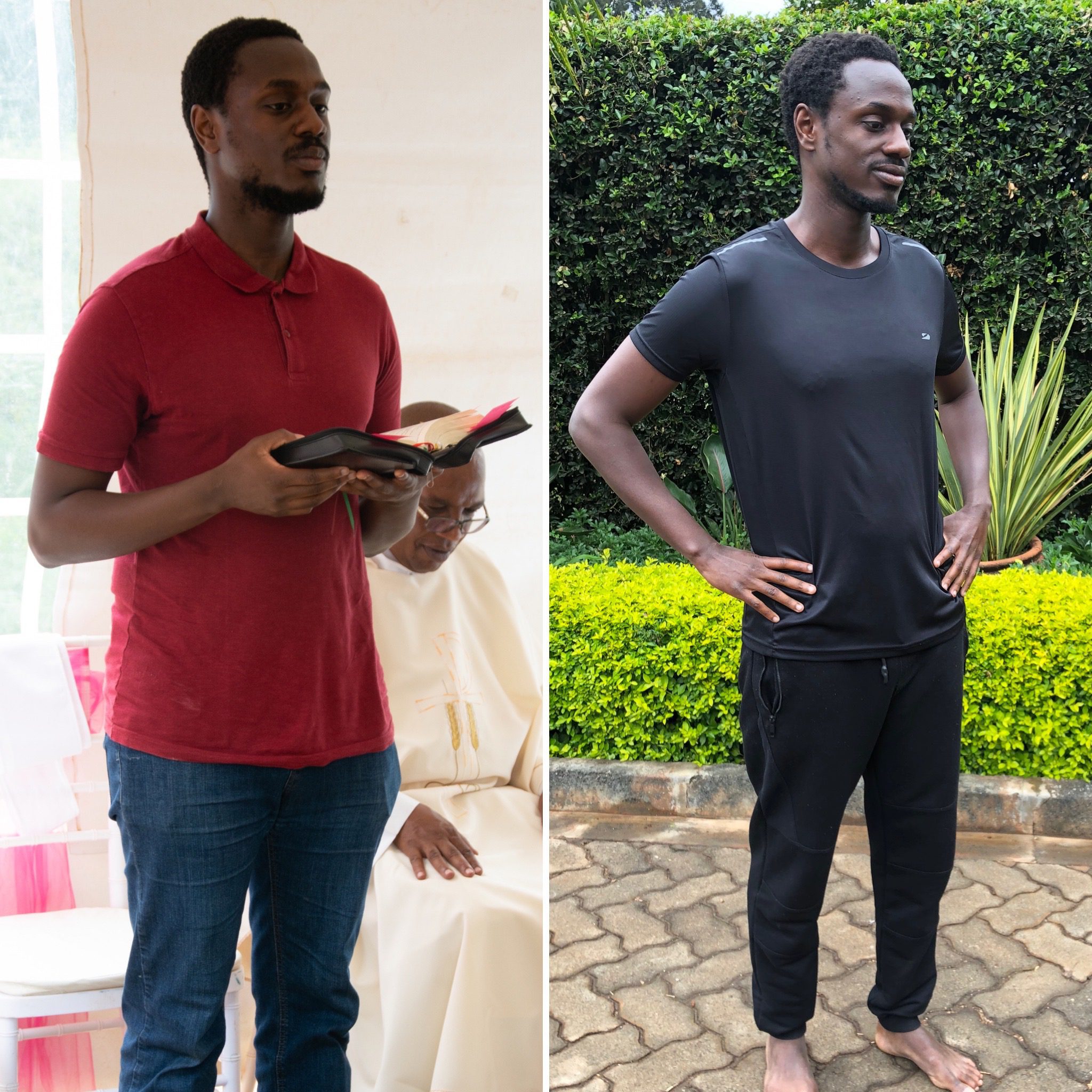 charles
Before signing up for Online Coaching I was stumbling around in the dark, trying to work out occasionally and not eat too much junk but my weight wasn't moving at all. After starting the program, I almost immediately saw tangible results. I lost 11 kgs in 5 months!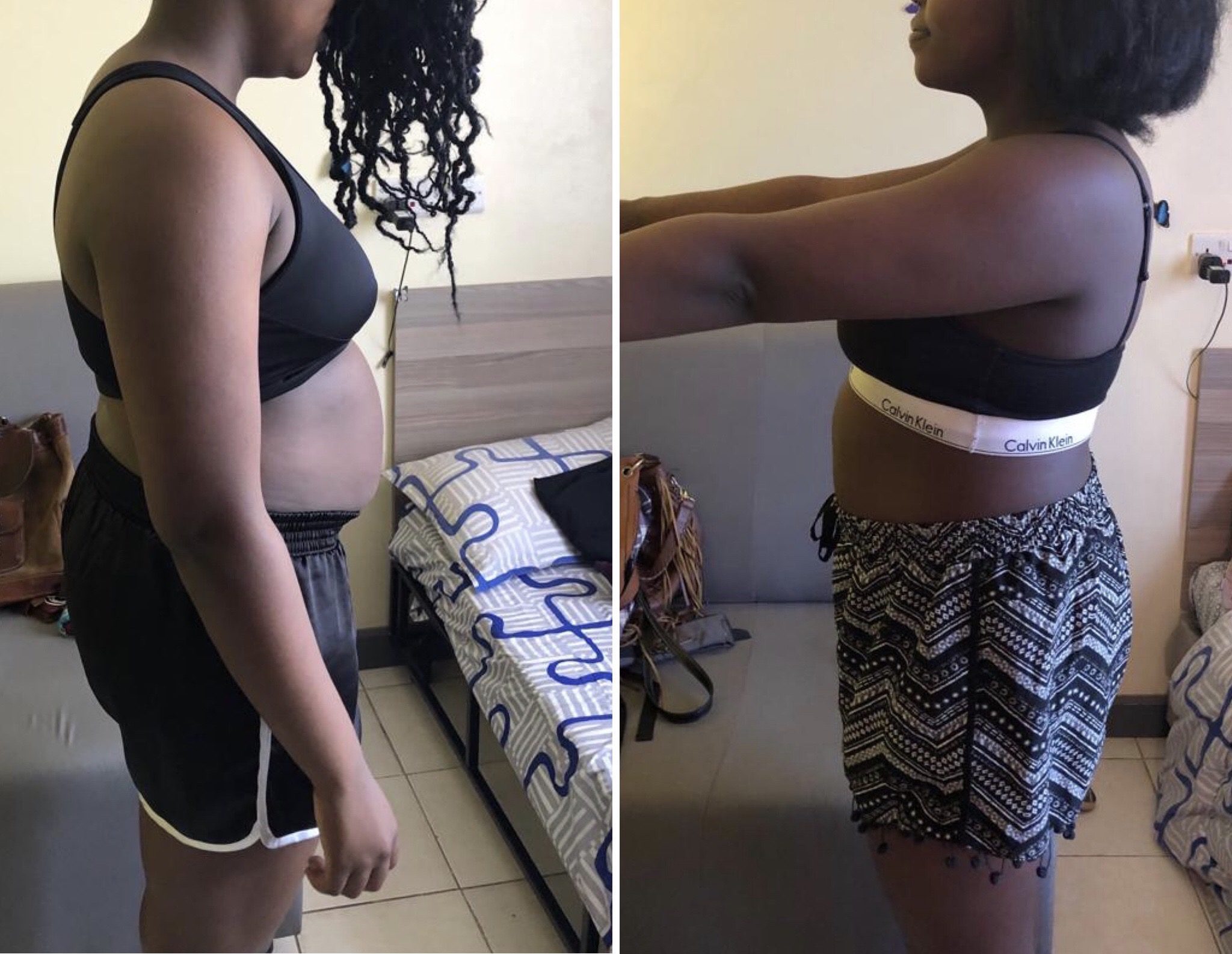 tonie
When I started working with JP, I was 79.2 kgs and he made the whole process SO EASY I was in disbelief at first. In about six months, I was 72.2 kgs and I had DEFINITELY shed a lot of fat (I had to do a proper wardrobe change for my pants 😂).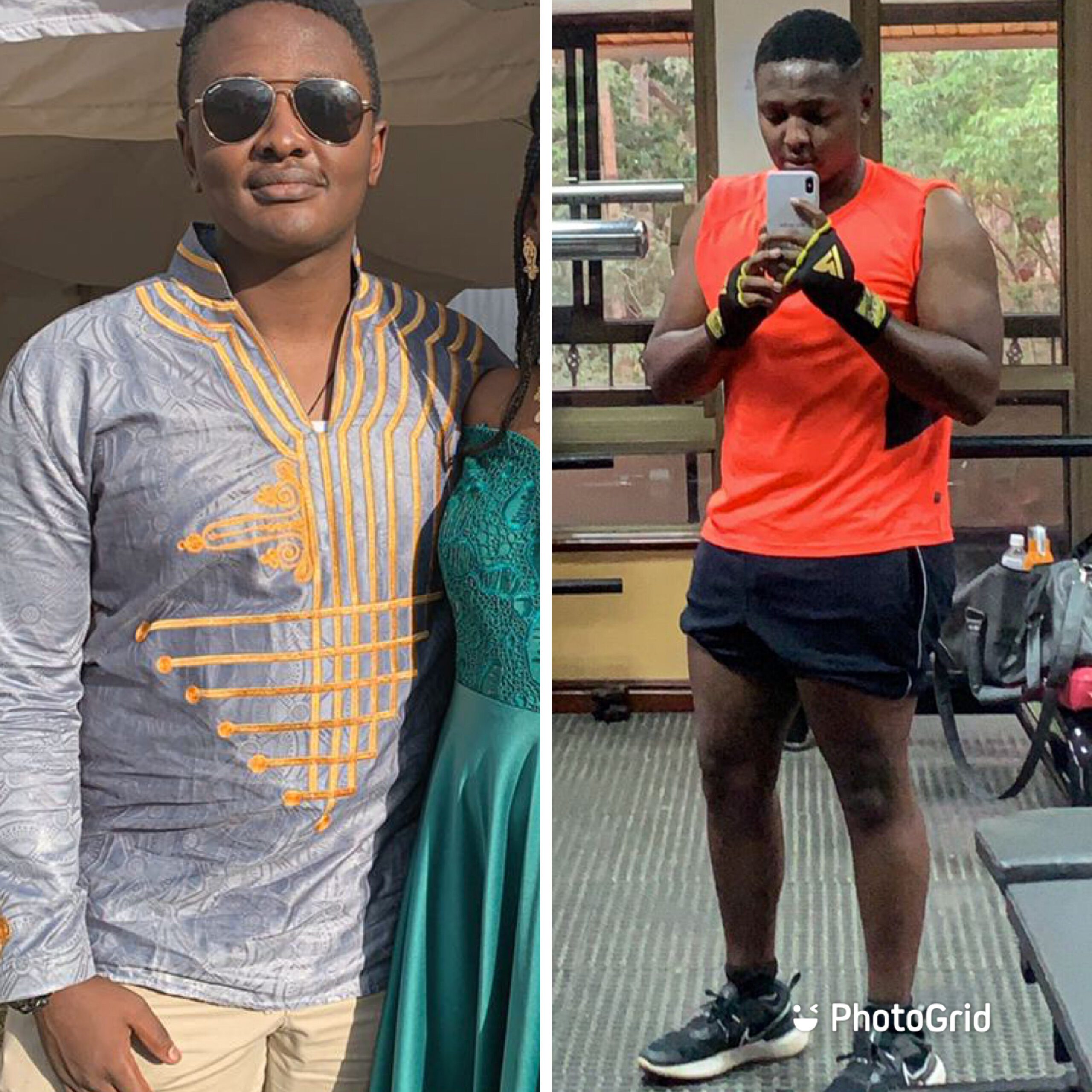 JESSE
Working with JP has been an awesome process with lots of progress. I went down from 93-84 kgs (9kgs lost) via the 3-month program while gaining solid muscle mass and self-confidence. His assistance in teaching you how to track calories, exercises and motivation is very helpful. I would definitely recommend this to anyone.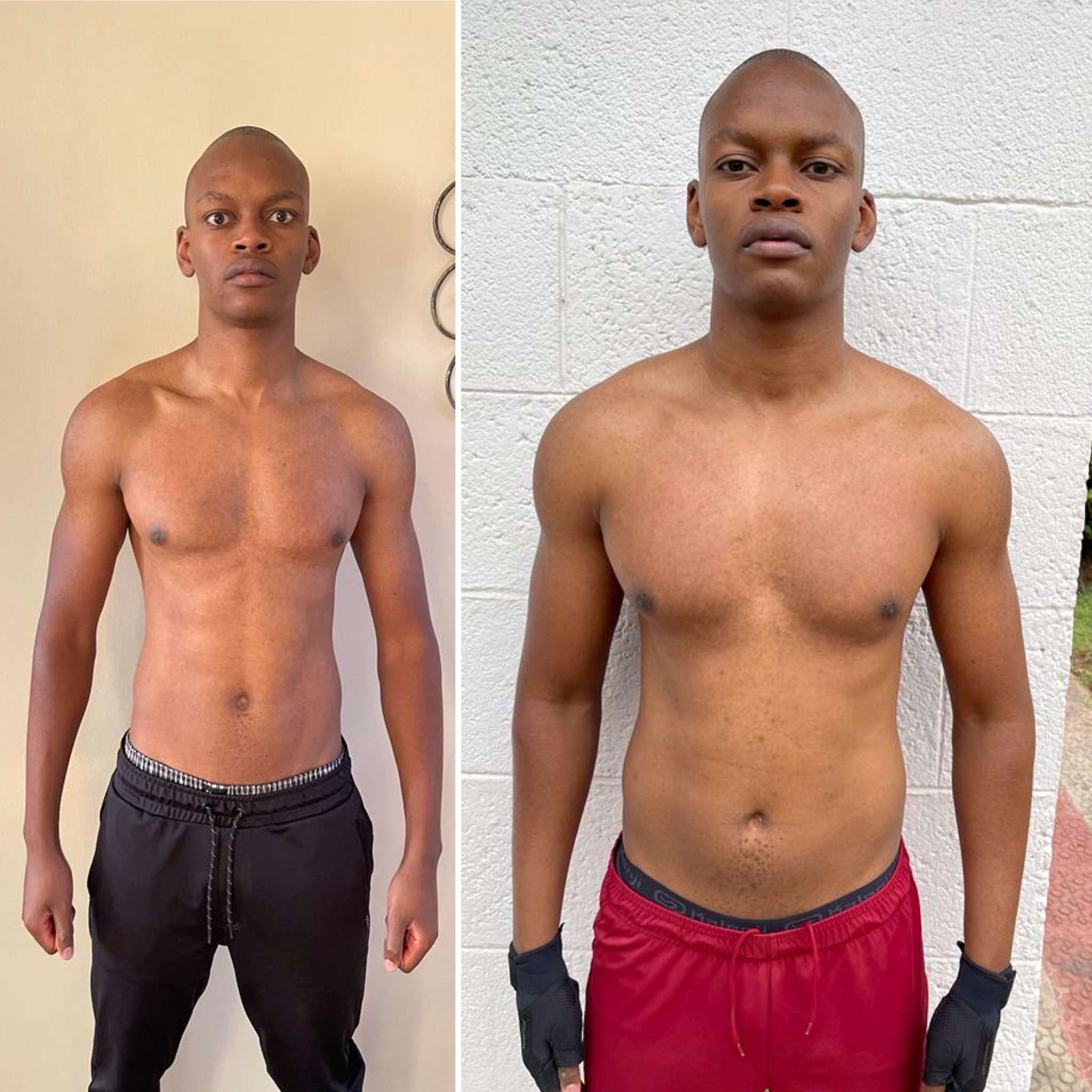 Kelvin
I would definitely recommend JP as a coach. I've been training for a while but never got to see the results I wanted. He helped me gain 8 kgs of muscle in 11 months!
MEET YOUR COACH: JP NYIHA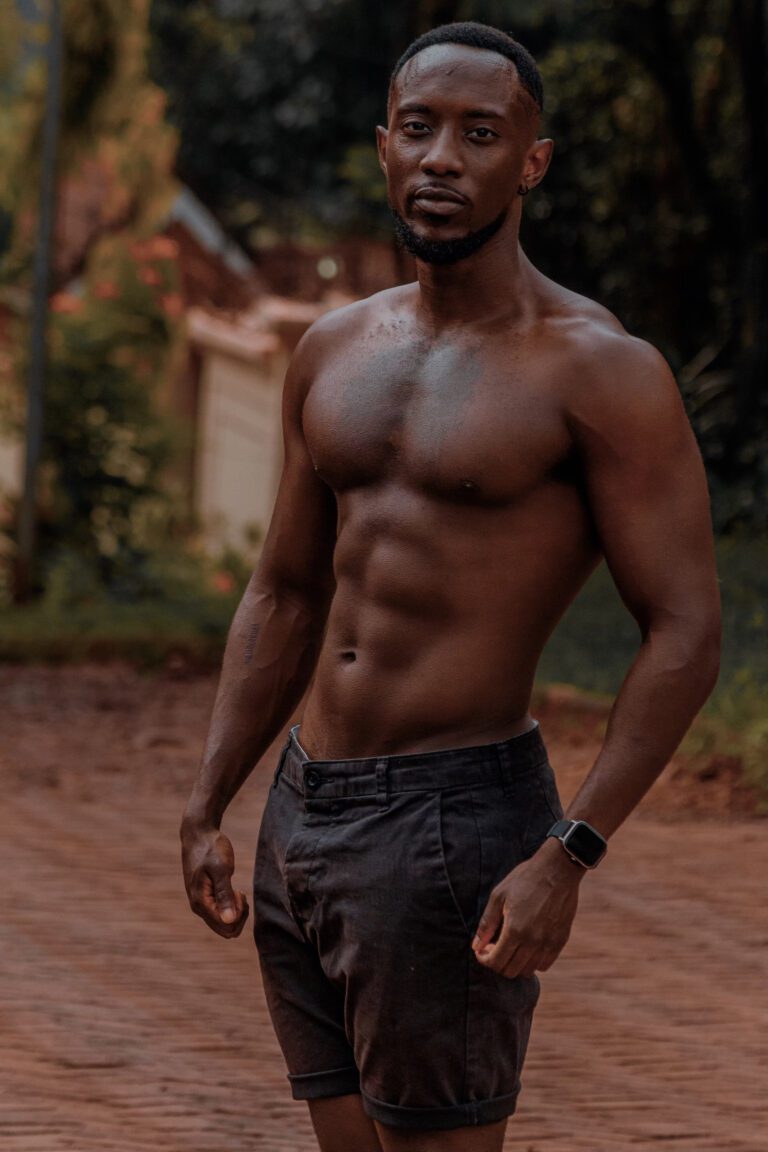 My name is John Paul Nyiha. I found my love for fitness and bodybuilding at an early age. I was particularly captivated by the aesthetic component of the sport; how it was possible to sculpt one's body from marble to masterpiece.

Over the years I have coached numerous clients, men & women alike, into achieving their dream bodies.

That being said, my primary goal is to help as many people as possible not only to transform their bodies but their lives.
This program works best for self driven individuals, willing & ready to do not what is easy, but necessary to achieve their goals.
JANE NYAWIRA
Working with Jp had been ? transformational.  I learnt so much about food and how to track and choose the right combinations for sustainable weight loss. All this without starving myself. The weekly and sometimes twice weekly check- ins help to keep goals in check and adjust any problematic areas. JP is professional, knowledgeable and an absolute pleasure to work with. lost 4 Kilos and am on track to achieving my dream weight of 57kg. I had to buy a new set of clothes coz my old ones are wearing me instead. Yay! I feel great and in control of my weight and fitness.
LILLIAN KAHIRO
My daughter and I started out with JP 3 months ago. I must say that it has been a journey of total dedication on my part and awesome commitment from JP. He is very detailed and takes his work and his clients very seriously. I would tell him that an exercise was not working for me and very quickly he would substitute it with a more friendly one. Thank you JP for walking with me and helping me get back to shape! May GOD bless you and the work of your hands.?
ROBINSON KAMAU
Truly appreciate working with JP. I struggled with weight and never knew how to lose it, always relying on hope (jogging and excess cardio coupled with poor feeding habits) rather than information. JP helped me understand the importance of nutrition and resistance training with the fat loss goal in mind. In the 4 weeks i worked with him, i managed to shed from 94 to an 89.4 (4.6 kgs lost!) and using his information, will genuinely shed towards my goal of 72 - 73. Would highly recommend him to anyone who would want to better understand fat loss and nutrition.
LYDIA ODONGO
Thank you JP for helping me adopt a healthy lifestyle. Not only did I lose 5Kg in 8 weeks I also appreciated the value of reasonable diet and exercise. I started the program in Oct, stopped end of Nov and I am writing this review the 3rd week of Jan. I waited to see how the program works on maintenance and I must say even with all the Dec festivities I did not gain weight. JP is very professional, motivating, encouraging and like he always says, "trust the process" and you will see results. I would highly recommend this program to anyone seeking to lose weight or wanting to adopt healthy living.
DEVIN ARIEL
Highly recommend for anyone looking to have their life transformed by adapting an effective fitness routine! JP is so through and knowledgeable about what he does. His communication is always on point, which is great for someone who might need positive reinforcement. His suggested workouts can be modified if needed or substituted with similar workouts to achieve the same results. If you follow his program consistently you will definitely see results soon! Thank you again JP for all of your guidance and support!